By S Jha
New Delhi, September 2: Commanding officer Vidyadhar Harke read the commissioning order for INS Vikrant, sailing into the deep waters to carry the Indian flag under the watchful eyes of Prime Minister Narendra Modi.
The commissioning of the INS Vikrant has come days after the Chinese spy ship Yuan Wang 5 docked in nearby waters at the Hambantota Port in Sri Lanka to map the strategic assets of India.
"The occasion on the deck of INS Vikrant is hunkar (roar) of the Indian aspirations on the global horizon," said Modi in Kochi.
On the occasion the Indian Navy also got a new ensign. That has been inspired by the naval might of the Maratha Empire of the 18th century that carried its flags to Attock, which is now in Pakistan, and wrecked the Mughal power.
Before the Marathas, the Cholas had been an undisputed naval power, which saw Indian trade and culture reaching the eastern Asian countries. And much before, the Harappans had far better naval superiority, as they traded with the Europe.
But now the scales are tilted in favour of China which has 355 warships to domineer the international waters. The Indian Navy is stated to have 150 ships and submarines, clearing baring huge gap between China and India.
Yet, the commissioning of INS Vikrant is coming of age for the Indian defence self-reliance, for it has been built in Kochi in about 17 years, with almost 76 per cent components sourced from within the country.
The country's steelmaking giant, Steel Authority of India Limited (SAIL), has supplied the entire DMR grade specialty steel for the INS Vikrant.  SAIL has supplied about 30000 tonnes of the specialty steel for building the aircraft carrier.
"This demonstration of India's self-sufficiency (Atma Nirbhar) to produce an aircraft carrier warship will reinforce the country's defence indigenization programs and 'Make in India' campaign. With the commissioning of INS Vikrant, our nation has forayed into the elite club of nations who can build their own aircraft carriers," the government said in an official statement on Friday.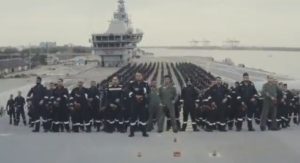 Equally significant is the role of over 100 small and medium enterprises who worked in the building of INS Vikrant, which may augur well for the future as the Indian defence forces in the next five years are expected to give orders worth $135 billion.
The INS Vikrant is named after India's first aircraft carrier with same name which had sunk enemy's warships, while creating havoc in Pakistan in the 1971 War.