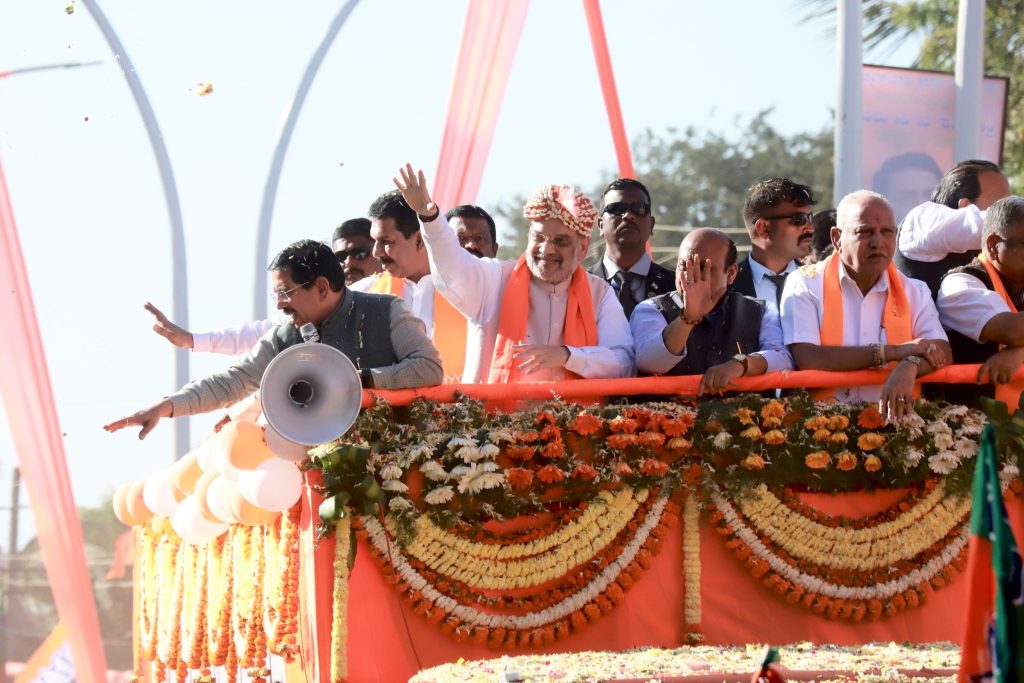 By Manish Anand
New Delhi, January 28: Union Minister for Home Affairs Amit Shah's Dharwad roadshow appears to have the sole objective to send out the message of unity in the Karnataka unit of the Bharatiya Janata Party and give centre-stage to former Chief Minister BS Yediyurappa (BSY). Shah held BSY and incumbent Chief Minister Basavaraj Bommai on his sides as he held the roadshow in Dharwad.
The centrality of BSY in the BJP campaign for the Karnataka Assembly elections has been admitted by the party strategists. That's being accorded without diminishing the clout of Bommai, who will remain the face of the party in the state polls.
Shah on Saturday held the roadshow with most of the leading lights of the state unit of the BJP in a single frame. Union Minister Pralhad Joshi, state unit party chief Nalin Kumar Kateel shared the space with Shah. Before Shah flew to the state, the state capital had been abuzz with grapevine of BSY miffed with the party's affairs. But to give credence to the show of unity, BSY greeted Bommai on his birthday today. Earlier, Prime Minister Narendra Modi had greeted Bommai with effusive praises in a clear signal to the party leaders in Karnataka that the top brass of the saffron outfit will not entertain dissension in the ranks against the incumbent chief minister.
Yet, the BJP top brass is making a visible display of affection for BSY, as Modi had held a five-minute meeting with the former chief minister on the sidelines of the party's national executive meeting early this month. The party insiders said that BSY had wanted to invite Modi for the inauguration of the Shimoga Airport. However, the political import of the meeting had spread to the Karnataka leaders.
"BSY and Bommai have to work as a team, while Modi will lead the election campaign charge in Karnataka. The interests of BSY during the ticket distribution will need to be respected by the top leadership of the party, which may include accommodating his followers," said a senior BJP functionary.
Shah has his task cut out to ensure that the BJP strikes the unity theme ahead of the polls. The state minister Sriramulu, who is a prominent Valmiki (scheduled tribe), with influence in at least 35 Assembly seats, has been seen to be striking discordant notes. He has praised former state chief minister and Congress leader Siddaramaiah recently.